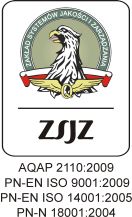 In PIT-RADWAR S.A. a System of Quality Management according to international standards ISO 9001:2015, ISO 14001:2015, BS OHSAS 18001:2007 and NATO standard document AQAP 2110:2016 is obligatory. Department of Quality and Management Systems of Polish MoD issued the certificate confirming appropriateness of system functioning.

This system includes R&D works, designing, manufacturing, distribution, installation and servicing of radar equipment, radar antennas, electronic intelligence systems, automated command and control systems, microwave subcomponents and electronic devices, as well as providing electroplating services, plastic processing and metal works. The functioning System of Quality Management makes possible for PIT-RADWAR S.A. realization of products for demanding customers like MoD, NATO countries and foreign customers. Products realized under these contracts are undergoing military approval and in the case of NATO countries - GQA (Governmental Quality Assurance) procedure.

The System is constantly improved and adapted to changing requirements.